Sun 26th April-Sat 2nd May 2020 £790
UNLEASH THE GODDESS HOLIDAYS IN PORTUGAL
Exclusive location 5* Platinum Villa Algarve right by the beach!
Get real results, fitness, fat loss, fun & get your 'sexy' back!
Crossfit-Kettlebells-Boxing-Yoga-Kayaking-Cycling-SUP--Pilates-Hypnotherapy
ALL THE WOMEN OUT THERE GET POWERED UP! YOU ARE SPECIAL, WONDERFUL INDIVIDUALS
COME AND BE WITH LIKE MINDED WOMEN FOR AN AMAZING WEEK
RESERVE YOUR PLACE BEFORE ITS GONE ONLY £200
All levels of fitness, all abilities -Small & Bespoke groups, individual attention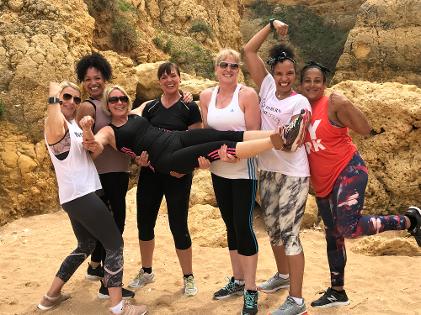 Unleash The Goddess
Transforming lives- fitness, fat loss, femininity and fun, fun, fun!
"I can not believe I have increased my fitness so much in a week!" Sam, Nottinghamshire
'"It's like therapy! I come home feeling amazing and revitalised, my husband has booked me on again! Amber, Nottinghamshire.
"Where has my belly gone? in 1 week??? I never would have believed it!" Emma, London
"the holiday exceeded all my expectations, I can not wait to go again!" Rizwana, Germany
"it made me feel like me again, I had a great time, so many laughs 10 out of 10!" Tonya, Nottinghamshire
"an amazing week, transformational. I love the "Unleash the Goddess" sessions, re-igniting my femininty.
"Was your wife "hot" when she came home? "Wow what did you do to her? she came back feeling incredible and is amazingly sexy, she is telling everyone about you!"